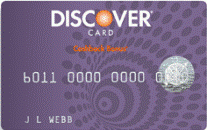 Think you're a stickler for paying your credit card bills by the due date? If that's the case, the new Discover Motiva card carries a Pay-On-Time Bonus where you will earn 5% of your interest charges as a cashback bonus each time you pay at least the minimum payment by the payment date. You'll get 0% Intro Purchase APR and Intro Balance Transfer APR for 15 months from date of account opening. Additionally, you can generate more cashback bonuses simply by making purchases utilizing your Motiva card. Earn 5% to 20% cashback bonus at over 175 top online stores through their exclusive shopping mall and 1% cashback bonus on every purchase elsewhere. Best of all, there is no limit to the number of cashback bonus you can earn! These cashback bonuses are automatically credited to your account for hassle-free and convenient spending.
Key Features:
Earn Cashback Bonus for your good credit management
0% Intro APR on purchases and balance transfers for 15 months, then the variable purchase APR of 10.99% – 20.99%*
Up to 20% Cashback Bonus at popular online retailers when you shop through Discover.com
Discover is ranked #1 in customer loyalty – 15 years in a row! (2011 Brand Keys Customer Loyalty Engagement Index Report)
24/7 access to a U.S.-based Account Manager within 60 seconds
$0 Fraud Liability plus mobile and email fraud alert options
Great rewards with no annual fee, no rewards redemption fee, and no additional card fee
*Click apply to view rate, fees, rewards, limitations and other important information
Discover Motiva makes it simple to earn cashback bonus along with a low introductory purchase and balance transfer APR, it's a rather attractive card to possess. If you feel the Discover Motiva could possibly be what you're seeking in a credit card, apply today!