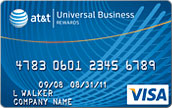 For people with small or medium-sized businesses and wanting a credit card that rewards spending, the AT&T Universal Business Rewards Card issued by Citi advertises no annual fee, 0% introductory APR for the first 6 months, in addition to a generous rewards program that gives bonus ThankYou points on business-related purchases. Allowing you to earn up to 5X ThankYou points for each $1 spent on AT&T goods and service expenses and 3x and 1x ThankYou points elsewhere, these points are redeemable for cash, merchandise and gift cards, and travel benefits through the their ThankYou Rewards network.
Key Features:
5 ThankYou Points for every $1 spent on eligible AT&T products and services purchased directly from AT&T
3 ThankYou Points for every $1 spent on purchases at certain office supply merchants, gas stations, and on professional services
1 ThankYou Point for every $1 spent on other purchases
Earn up to 100,000 points in a calendar year
Redeem your points for: air travel, statement credit, gift cards, merchandise and more
0% APR on purchases for the first 6 months. After, 14.24%. APR will vary with the market rate based on the Prime Rate.
No annual fee
Additional cards for employees with credit limits you set
Other benefits received with this card include prescription drug discounts (also available for employees for $10/mos.), optional vision and dental discounts for $8.95/mos, travel and emergency assistance, automatic travel accident insurance as well as car rental insurance. Moreover, receive additional employee cards at no cost, get quarterly and annual spending statements, and free personal business assistance to help you book travel, gather business information and provide referrals for office and administrative needs. This card definitely seems to have all the perks and services needed by a small business wishing to improve the way it functions. Citi boasts that the AT&T Universal Business Rewards card was developed to help drive your business to work more efficiently, saving time and money, all the while rewarding you for it. Apply today and see what it can do for your business.