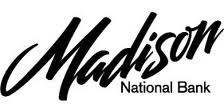 Madison Bank is offering a $150 bonus to customers who enroll in their Totally Free Checking Account program. This account has no monthly fees and no per-check fees. Sign up to create an account and follow four steps to get your bonus:
1. Sign up for direct deposit
2. Sign up for a debit card
3. Register for their online bill payment program
4. Place your first check order
After completing those four steps, you will be credited with your $150 bonus! Remember that you must keep the account open and in good standing for 180 days to keep the bonus. You can also receive a free gift when opening a new account with Madison. There is, however, a $50 minimum deposit requirement to open an account.
Other benefits to banking with Madison Bank include no required minimum balance, unlimited check writing, free Visa Check Card, and reimbursement of all ATM fees within your first 3 months of opening a new account. This is a great deal, so don't let it pass you by! Come visit Madison Bank today!

Learn about more bank bonuses