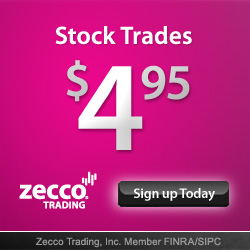 Around since 2006 and operating out of San Fransisco, California, Zecco Trading ("Zero Cost Commission") is an online brokerage that offers low priced stock and options trading- priced at $4.95 plus $0.65 per contract- and represent one of the best values in the brokerage industry. Their online stock and ETF commission rates are 30 to 50% less than other top competitors with the lowest assignment and exercise fees of all discount brokerage firms – $4.95. Mutual funds are just $10 per transaction. There are no surcharges for big orders but the company charges $2 per trade more on penny stock trades. There is no minimum deposit required to open or maintain an online trading account. Along with their inexpensive stock and options trading, Zecco is known for the ZeccoShare social network, an exclusive innovative online trading community that provides the perfect environment for developing strategies, obtaining trading ideas, money management skills and advice from other traders who've been there and seen everything.
Key Features:
Stocks: $4.95 per trade (equities with a trade price of less than or equal to $1.00 per share are $6.95 per trade).
Options: $4.95 per trade + $0.65 per contract.
Broker assisted trades are $19.99.
Zecco's price structure is ultra cheap and easy to understand.
Forex spreads as low as 0.7 pips for major pairs.
Margin rate: 4.5%
Investments offered: Stocks, Options, Bonds, FOREX, ETFs, Mutual Funds, Retirement Accounts, Education Savings Accounts.
Deposit funds by linking your bank account, paper check, wire transfer, transfer from another broker (Zecco will cover up to $150 in account transfer fees).
ZeccoShare social network- an exclusive innovative online trading community
The trading platform includes a nice simple design. It's very intuitive to use, you should easily be able to place an order without having to spend considerable time training. However, Zecco's trading tools don't offer several of the more advanced features used by very active trades. There's no volatility charts, trading patterns or stock alerts, and while streaming data is available, it is extra. Therefore, this is a platform that's clearly geared towards the beginner. On the plus side, it has everything the smaller trader or those just starting out will require. Sometimes less is more, and that's definitely the case here. There's also a fully functioning mobile platform so you can execute trades on the go.
Overall, Zecco is an excellent choice for you if you're a skilled trader looking for a low cost and solid service. Education resources are a bit thin but nonetheless OK, and let's not forget how useful the social networking feature is to share notes, tips and trading strategies with other successful traders. They're a broker tailored towards the beginner. And that's no bad thing because everyone has to start somewhere. They have a full virtual trading platform, perfect for mastering your strategy together with one of the best trading communities around. Opening an account with the company does not require money down with no commitment needed, so if you are interested in if Zecco works for you, take 10 minutes and open an account!

Click here to see the best online brokerages.