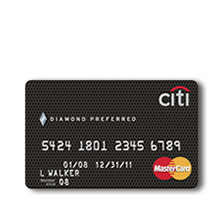 Do you feel suffocated because of the excessive interest payments on existing cards? Will you be needing to make a high price purchase but wish to avoid paying high interest rates? The Citi Diamond Preferred Card is currently offering the longest introductory rate of 0% APR for 21 months on purchases and balance transfers. The 0% introductory APR on balance transfers requires a 3% balance transfer fee, which happens to be currently the lowest fee available from major credit card issuers. Once the introductory rate expires, the APR becomes 11.99%-20.99% depending on your credit history. As a rewards benefit, the card provides "Extra Cash" to be redeemed for travel, entertainment and merchandise on the Extra Cash from Citi website. In addition, the Citi Diamond Preferred Card also comes with a few premium perks and protections for shopping and traveling. 24/7 Diamond Preferred Concierge service satisfies your flight and hotel bookings, restaurant reservations, and even entertainment ticket purchases. If you would like to get out of debt sooner, not waste money on paying interests, or just want a great card that provides some spending perks, this card just might be what you're needing.
Key Features:
0% introductory APR on purchases and balance transfers for 21 months.
Low 3% Balance Transfer Fee.
No Annual Fee.
Extra Cash from Citi Program. Redeem your virtual Extra Cash for discounts on the the Citi website.
$0 liability on unauthorized purchases.
Secure, free online account management.
This is an excellent card to have to relieve you from surmounting debt on credit cards with high interest rates or if you need to make a large purchase and want to allow some time to pay it back without accruing interest. Apply for the Citi Diamond Preferred Card today and start saving your hard-earned money!