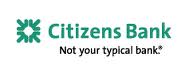 Citizens Bank is now offering a $200 bonus for new checking account customers. The only requirement is that you maintain an average monthly balance of $5,000 and make at least 5 transactions each month for the first 6 months of account ownership. This offer is only good until October 28, 2011. It's simple to open an account and get your bonus!
Citizens Bank offers 3 different personal checking account options: one featuring their most competitive interest rate, one with standard benefits and convenience, and another with maximum benefits. To qualify for the bonus, you must open one of these 3 accounts or open a Premier or Private Checking account. Additionally, this must be a new account. This means the primary name on the account must not have been the primary or secondary name on any other personal checking account at Citizens Bank within the last 6 months.
After meeting these requirements, you will be eligible for your $200 bonus! All bonuses will be paid on July 31, 2012. Hurry in to your local Citizens Bank location or sign up online. Get your bonus today!

Find more bank bonuses near you