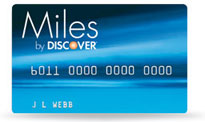 If you're looking for a no annual fee credit card that rewards you for shelling out for traveling and dining, take a look at the Miles by Discover® Card , which is currently offering 12,000 Bonus Miles for first time cardmembers. Letting you earn 1X mile for every single dollar spent, this card offers no limit to the number of miles you can earn. What's even better, the Discover Miles gives you the ability to earn 2X miles if you use your card for travel (e.g. airfare, hotel rooms, car rentals, cruises, and travel packages) and restaurant (e.g. full-service restaurants, cafes, cafeterias, as well as fast food locations) purchases. Once your points accumulate, it is possible to redeem them with all the flexibility you need. Book your own travels and skip the in-house travel agency to avoid any usual restrictions and blackout dates. Would you rather carry out some shopping with your earned points? Not an issue; redeem your miles for cash or for gift cards ($25 for every 5,000 miles).
Key Features:
Earn up to $120 in travel rewards–1,000 Bonus miles every month you make a purchase for the first year
1 Mile on every $1 you spend – Plus flexible redemption options like travel credits, merchandise, gift cards or cash
0% intro APR on purchases and balance transfers for 6 months, then the variable standard purchase APR of 10.99% – 16.99%*
No restrictions on travel–fly on any airline, book any hotel or car, with no blackout dates
Travel benefits include secondary collision damage insurance when you rent a car with your Miles by Discover card
Discover is ranked #1 in customer loyalty–15 years in a row! (2011 Brand Keys Customer Loyalty Engagement Index report)
Great rewards with no annual fee, no rewards redemption fee, and no additional card fee
*Click apply to view rates, fees, rewards, limitations and other important information
Without any annual fee, competitive interest rates, and a ton of rewards intended for the traveler and diner, the Discover Miles needs to be in your wallet. Sign up for your card today!