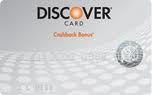 The Discover® More® Card – $50 Cashback Bonus no annual fee is the #1 cash back rewards card when utilizing at its fullest extent. It provides the most cash rebates on more items and stores when shopping on their ShopDiscover rewards program. The Discover® More® Card gives you up to 5% back on a lot of your purchases effectively saving you hundreds of dollars a year. For a limited time, Discover is offering $50 cash back bonus if you spend $250 on the card within 3 months.
With a 0% intro APR on purchases and balance transfers and a maximum cash back benefits program, it is undeniable a great credit card choice for those with good credit and enjoy full guaranteed fraud protection. Here are the main features for the Discover® More® Card:
0% intro APR on balance transfers for a full 12 months, then the Regular APR
0% intro APR on purchases for a full 6 months, then the Regular APR
Get $50 Cashback Bonus when you make $250 in purchases within 3 months
5% Cashback Bonus in categories that change like travel, gas, groceries, restaurants, home improvement stores and more
Up to 1% unlimited Cashback Bonus on all other purchases
No Annual Fee
Cash Back Rewards Program
Their 5% Cash back quarterly rotating categories include Airlines, Hotels, Car Rentals and Cruises, Home Improvement Stores, Department Stores and Clothing Stores, Gas Stations, Hotels, Theme Parks, Zoos, Bookstores, Grocery Stores, Restaurants, Movie Theaters, and Movie Rentals.
The Discover® More® Card consists of a tiered cash back rebate formula. Cardholders will earn 0.25% for the first $1,500 in annual expenditure, then 0.50% from $1,500 to $3,000. Anything over $3000 in your annual expenditures, you earn 1% in unlimited rebates that do no expire.
Here at Hustler Money Blog, we offer the most comprehensive cash back Search Engine from all the best online retailers like GAP.com, SmartBargains.com, Dell.com, BestBuy.com, and many more. With the Discover® More® Card, you can join ShopDiscover by logging into your online account and get 5 – 20% cash back on your favorite retailers. ShopDiscover, in short, is a gateway to the merchants' website whereas you will earn anywhere between 5% and 20% discounts. Simply login into your account and search for your favorite merchant to shop. Your online cash back will be available to redeem within your Discover account.
More Benefits
The Discover® More(SM) Card has no annual fee and a grace period on purchases of 25 days. Cardholders can also download their credit card statements to Quicken and Microsoft's Money. Users can easily call their Customer Service Representative in the back of their card to change statement bill due date or any other issues.
In conclusion, we strongly recommend the Discover® More® Card – $50 Cashback Bonus because of its highly competitive rewards on their 5% rotating categories and their ShopDiscover online partners. Cardholders also have the option to double the value of their cash rebates by exchanging them for gift certificates of merchant partners.