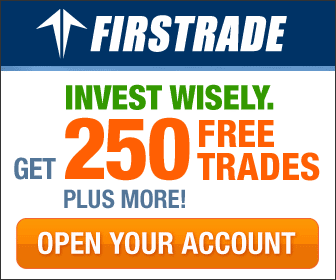 Firstrade, a discount online brokerage serving investors for over 25 years, is now offering 250 free trades if you open an account and funded with a minimum of $2,000 within 30 days of account open date . Along with online stock trading, they also offer options, mutual funds, ETFs, bonds plus more. Firstrades' $6.95 flat rate per trade for stocks and ETFs commission is priced competitively; however, there is 1/2 cent per share surcharge for stocks under $2 or orders of over 5,000. They've no IRA setup and maintenance fees, no volume requirements, and no inactivity or account maintenance fees. Firstrade is a member of FINRA & SIPC, therefore you are protected and can feel secure investing with them.
What Firstrade Offers:
Stocks and ETFs: $6.95; for stocks at or under $2 and trades over 5,000 shares, add 1/2 cent per share for the complete order
Options: $6.95 plus $0.75 per contract for market and limit orders
Mutual funds: $9.95 no-load funds, $0 load funds
Broker-assisted stock and equity trades: $26.95/trade ( option contract charges)
Margin interest rate on $5,000: 7.75%
Bonds: net yield basis
CDs: $30 for primary market CDs, net yield basis for secondary market CDs
Minimum to open account: $0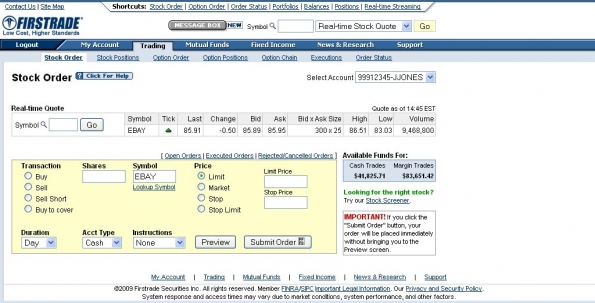 Additionally, Firstrade offer education savings plans, wide array of mutual funds, new mobile trading applications and social networking features where you can correspond with other investors to exchange ideas and read analysis of potential positions and market activity. Their new x-stream platform is noted for being user-friendly due to the clean interface and intuitive design, and contains a wide array of mutual funds to invest along with a decent commissions for buying/selling mutual funds. Account management with diverse tools and features keep it uncomplicated to manage all aspects of your account- from monitoring gains and losses, searching through your account history, linking accounts and customizing columns. Acclaiming to fit every kind of investor, Firstrade allows you to easily trade equities, options, and mutual funds with ease- on a single screen you conduct research, look into the market moves for the day and manage your account, even when using your mobile. Also, another notable service is that they provide assistance in Cantonese & Mandarin, so if either is your native language, Firstrade is probably going to be your best choice. Regardless if you are an active trader, serious investor, or simply starting out, Firstrade can provide you with what exactly you need.