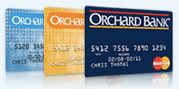 HSBC Orchard Bank is offering their Classic credit cards to help customers build good credit! There are 4 different cards to choose from to help you get off to the right foot and take advantage of your credit. Choose from the Platinum MasterCard, Gold MasterCard, Secured MasterCard, and Classic MasterCard. All of these cards come with several perks and benefits, but the terms and conditions will vary with each card. To find out which card is best for you, visit the HSBC website.
What you'll receive with a HSBC Orchard Bank Classic Card (depending on the card):
Free online account management tools
Zero fraud liability protection
Access to on-call service representatives
Potential to earn interest on your deposit
Receive reports from 3 credit reporting bureaus
To see the terms and conditions of each Classic credit card from HSBC, be sure to visit their website. Each of these cards come with a annual fee, varying from $35 to $79 per year. However, the Secured MasterCard will waive your annual fee for the first year. The APR will also vary, as well as the account processing fees. If you're looking to build your credit, take a few moments to check out HSBC Orchard Bank and their Classic credit cards. This is a great opportunity to build credit going into the holiday season!

Find the best credit card bonuses available to you!