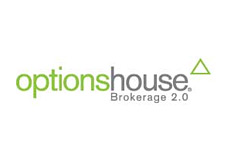 Founded and owned by PEAK6 Investments, L.P., OptionsHouse is a broker dealer headquartered in Chicago that provides a Web-based, near-professional trading platform concentrating on trading options. It is running a FREE Dell 24″ , 27″, 30″ LCD Monitor Promotion with $5K, $100k, $250k funding, respectively. There is also an option to get 100 free commission trades within the first 60 days after you fund your account with a minimum of $3,000. Furthermore, there aren't any maintenance fees, no minimum trade requirements, and trades are only $3.95 per trade. Highly ranked, the working platform features a unique "trade center" design that enables traders to make trades quickly without changing screens. The interface screen is very professional and clean: the main screen consists of your account summary, quote look-up, order statuses, positions, and detailed information on particular securities.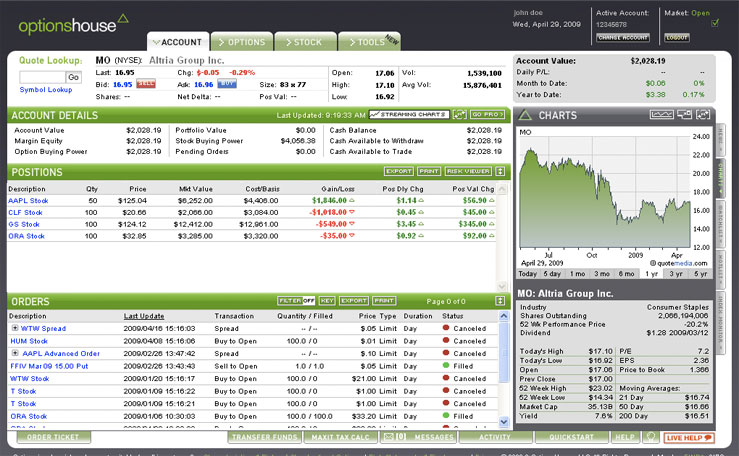 Whenever you trade at OptionsHouse, you not only obtain one of the lowest, most competitive rates available, you also get the flexibility to pick the rate that works effectively for you. Trade less than 10 contracts? Then opt for the Up To 5 for $5 rate where your first five contracts are only $5. Trade over 10 contracts? Maximize your value utilizing their low $8.50 .15/contract rate. And best of all, you may change your rate when your trading behavior changes.
Highlights:
Stocks and ETFs: $3.95
Stocks and ETFs Broker assisted: $3.95
Two plans for options: 1). Up to five contracts for $5; each additional contract $1. 2). $8.50 0.15/contract (great if trading over 10 contracts)
Two plans for spreads: 1). Up to 10 contracts for $10; each additional contract $1 2). $12.50 0.15/contract
Mutual Funds: $9.95
Spreads: Up to 10 for $10 with $1/contract over 10 OR $12.50 plus $0.15/contractOrders for U.S. treasury bonds and listed corporate bonds are accepted by phone
Investments: stocks, options, mutual funds, bonds, ETFs
Minimum to start account: $1,000 for cash account, $2,000 for margin account
New account is immediately funded with $5,000 of virtual money and customers could start practice trading immediately. This virtual trading feature is an excellent learning and testing tool for developing trading strategies without risking hard-earned money. Accounts offered at OptionsHouse: Individual, Corporate, Roth IRAs, SEP IRAs, Traditional IRAs, Joint, UTMA, UGMA, Trusts, Partnerships, Investment Clubs, and Educational IRAs.
OptionsHouse also offers a great iPhone app; great options trading education; and high end professional level options trading tools, including streaming charts and news, volatility charts, a probability calculator, and an options hotlist, to mention a few.
OptionsHouse is a member of SIPC and appeals most to experienced, self-directed traders. They give you an outstanding trading experience for unmatched value with some of the cheapest commissions on all investment products without compromising in customer service, quality of trading tools and reliability. OptionsHouse was rated 4 1/2 stars (highest rating) for Trade Experience and awarded a notable third consecutive "Best for Options Traders" ranking in Barron's 2011 annual ranking of top online brokers. Look for OptionsHouse to become increasingly popular in the years to come simply because they make it profitable to trade options, plus they are constantly enhancing the value they offer from their service.
Current Promotions:
REFER-A-FRIEND Tell a buddy about OptionsHouse and get $150 or 30 commission-free trades. Spread the word and we'll spread the wealth. Recommend OptionsHouse to your friends and get your choice of $150 or 30 commission-free trades. Simply sign in and input your friends' e-mail addresses, and we'll send them a short invitation to join OptionsHouse. There's no limit to the number of referral bonuses you may receive, so don't hesitate to send to your entire extended family, college alum group, or social networking list. Initial registration is needed, and then for anyone you refer that completes and funds an account, you'll be eligible to get $150 in cash (via PayPal) or 30 free trades. You can even choose to receive the $150 in the form of an Amazon Gift card, or you can donate it towards the Red Cross. All you've got to do is sign in and input your friends' e-mail addresses and we'll send them a brief invitation to join OptionsHouse. There's no limit to the number of referral bonuses you can receive
ACAT TRANSFER REBATE $100. We'll pick up the tab when you change to OptionsHouse. It's always hard to say goodbye, but at OptionsHouse, we'd like to make leaving your present brokerage somewhat easier. Move your stock, option, or mutual fund holdings via an ACAT (account transfer) into OptionsHouse, and we'll cover the fees your brokerage charges you for bidding them adieu – as much as $100 per separate brokerage account. To take advantage of this promotion: promo code ACAT100REFUND
WIRE FEES REBATE $25. Fast matters…so does cash. So you're ready to begin stock and option trading on the trading platform Barron's gave 4½stars for Trade Experience. Don't you wish to begin immediately? OptionsHouse knows that fast matters, and that goes for every part of account sign-up, including giving you quick access to your funds. A wire transfer is a faster funding option than a check or ACH, which means you'll be trading with our real-time stock quotes along with professional-grade tools a whole lot sooner. Plus – wire your initial funds into your account now and we'll credit you $25. To take benefit from this promotion: promo code WIRE25REFUND
Open an account @ OptionsHouse today and get a free wide screen DELL monitor
Open and fund an account @ OptionsHouse today and pick a free one-year subscription to the premium Morningstar newsletter of your choice
Open and fund an IRA account @ OptionsHouse today and 100 commission-free trades and up to $125 in transfer fees