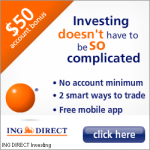 Sharebuilder, an online brokerage founded in 1996, is now offering a $50 bonus sign up with offer code 50WSB4 valid through September 30, 2011. Part of ING Direct, Sharebuilder offers an online stock trading platform that may be ideal for the beginner investor; no minimum balance is necessary, and there are no maintenance or inactivity fees. They are most widely known for their investment strategies, including dollar cost averaging and free dividend reinvestment. These investment strategies area aimed at helping their clients generate profits and save money. Other services provided by Sharebuilder include free investment advice, retirement planning, access to research tools that have been extensively created, Fund Transfers, Taxes, Portfolio Builder, as well as trading in Margins, Stocks, Options, and ETF's.
To be able to qualify for the $50 sign-up bonus, you need to use promo code 50WSB4 and deposit $50 into your new account. You don't need to trade any stocks in order to get the $50 bonus.
 Terms and Conditions:
You must open a new ShareBuilder account and deposit $50 or more to be eligible for this promotion. Initial deposit must be completed by 9/30/2011. ING DIRECT Investing will deposit a $50 bonus approximately 4-6 weeks after your first $50 deposit. The $50 bonus offer is available for Individual, Joint and Custodial accounts only. Offer not valid for IRAs or ESAs. The $50 bonus is not available for withdrawal for 90 days after it is awarded to your account. This offer is not valid with any other offers and is non-transferrable. Limit one ShareBuilder account bonus per unique customer or custodial beneficiary. We reserve the right to terminate this offer at any time and to refuse or recover any promotion award if we determine that it was obtained under wrongful or fraudulent circumstances, that inaccurate or incomplete information was provided in opening the account, or that any terms of our Account Agreement have been violated. Offer expires 9/30/2011
Investor education is a key focal point of ShareBuilder's ever-evolving services and one of the highlights of membership. Depending on your membership, some of its search tools include the Stock Finder, Mutual Fund Finder, ETF Finder, and Fund Compare tool that allows you track market moves with Market Mover and identify the highest rated stocks with the Stock Grade Finder. Additionally there is a Watch List to keep track of possible investments you're considering. Sharebuilder has two tiers of membership, Basic and Advantage:
The Basic plan include automatic investments that carry a fee of $4 and real-time trades are $9.95. It is good for beginners to investing, but also perfect for infrequent investors.
The Advantage plan requires a monthly fee of $12, but with this membership, you receive 12 free trades each month, if those are done by automatic investment. Each automatic trade in excess carries a fee of just $1. Real-time online trades, on the other hand, are $7.95. Real-time trades are executed as soon as possible after you place the order. Also, members get access to one of ShareBuilder's most instrumental research tools and stock reports.

Overall, Sharebuilder is adequate if you're merely wanting to create and forget an account with automatic investments; however, it is not great for you if you're a day trader. Otherwise, some of the benefits such as no account minimums, no maintenance or inactivity fees make it worthwhile, especially if you consider the $50 sign up bonus. Sign up today!