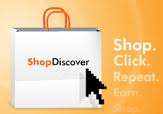 ShopDiscover, the online shopping site of Discover, is offering amazing cash back rewards when you shop online through their website! Visit the ShopDiscover website, create an account, and start shopping! Enjoy 5 – 20% off of your favorite major retailers! With stores like Banana Republic, Home Depot, and Target, find stores from A-Z that fit your needs.
To use ShopDiscover, you must be a Discover cardmember. To sign up for a Discover card, you can visit the Discover website or visit the ShopDiscover page and sign up there. With the holiday season just around the corner, this is an excellent idea for anyone wanting so save a few bucks on their purchases! Don't waste another day or spend another penny without getting paid for it. Sign up for ShopDiscover today!

Find the top credit card bonuses to maximize your shopping experience!