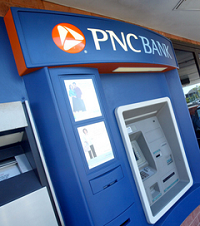 Opening a PNC Virtual Wallet Account will guarantee any residents of Alabama, District of Columbia, Florida, Georgia, North Carolina, South Carolina, Virginia, Wisconsin and Chicago a chance to earn an easy $100 bonus. If you work in a company that offers WorkPlace Banking benefits from PNC Bank, you can refer a coworker to PNC and claim your well-needed $100 bonus. Once you open your own account all you have to do is complete the referral coupon and give it to a coworker before they open their own eligible account. To convince your coworker to switch, remind them that PNC's referral program can earn you up to $500 a year! Pnc's  WorkPlace helpful educational on-site and online sessions, workshops and financial tools supports you in saving the utmost money! So hurry in and save today! Don't forget you can earn a $300 bonus with Chase Premier Checking!
How To Earn PNC Bank $400 Bonus:
Download the referral coupon and include your name and address in the "referred by" section
Give it to your co-workers and start a conversation about PNC
Encourage them to join and open an eligible PNC checking account
After they do, you'll get $50 per co-worker and they will also receive money
PNC Bank Promotion Summary:
Account Type: Virtual Wallet with Performance Select
Maximum Bonus: $100
Availability: Alabama, District of Columbia, Florida, Georgia, North Carolina, South Carolina, Virginia, Wisconsin and the cities of Chicago and Rockford in Illinois
Expiration Date: None
Hard/Soft Pull: Unknown
Direct Deposit Requirement: Yes, a direct deposit is required
Additional Requirements: Must refer a co-worker that is eligible for PNC's Virtual Wallet Savings Account
Monthly Fee: $15 monthly fee for Performance Spend, Keep balance at $2,000 to waive monthly fee. $25 monthly fee for Performance Select. Keep balance of $5,000 or Direct Deposit of $5,000 to waive the monthly fee.
Early Termination Fee: None
Fine Print & Bonus Terms:
A qualifying Direct Deposit is defined as a recurring Direct Deposit of a paycheck, pension, Social Security or other regular monthly income electronically deposited by an employer
Credit card cash advance transfers, transfers from one account to another or deposits made at a branch or ATM do not qualify as Qualifying Direct Deposits.
A qualifying Bill Payment must be made using the PNC Online Banking system and the payment date of at least one transaction must be within 60 days of new account opening.
Transfers, drafts, payments made from PNC checking through another party's payment system, or personal transfers through Popmoney, do not qualify as Bill Payments.
If multiple accounts are opened with the same signers, only one account will be eligible for the premium.
For this offer, signing authority will be defined by the customer name(s) and social security number(s) registered on the account.
Offer only available to residents of: AL, DC, DE, FL, GA, IL, IN, KY, MD, MI, MO, NC, NJ, NY, OH, PA, SC, VA, WI and WV.
Offer may be extended, modified or discontinued at any time and may vary by market.
The value of the reward may be reported on Internal Revenue Service (IRS) Form 1099, and may be considered taxable income to you.
Final Analysis:
I highly recommend opening a PNC Virtual Wallet through Refer-A-Friend program to earn a $100 cash bonus when you set up a virtual wallet and have an eligible co-worker thoroughly sign into PNC company. If you're looking forward to stretching that dollar, PNC has personalized tools and features to help guide you with your financial plans  . With plenty of benefits, and an easy $100 referral bonus delivered straight to your online virtual wallet account, How could anyone not say no! Start Saving more when you sign up for a PNC Virtual Wallet.  I also recommend you check out our complete listings of Bank Deal for all of your banking inquiries!