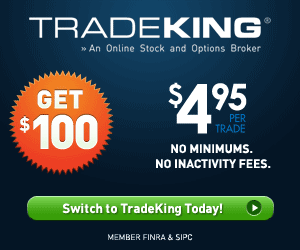 With a number of online brokerage from which to choose these days, TradeKing is offering a fantastic incentive for traders to join: change to TradeKing and get reimbursed up to $150 in transfer fees. With TradeKing, you'll get an intuitive trading platform, fast trade execution, powerful charts and research, professional-caliber tools, our innovative Trader Network plus much more, all for just $4.95 a trade. They will also refund transfer fees on ALL new accounts charged by your current broker up to $150. Note- this is available to US residents only.
What TradeKing Offers:
Stocks and ETFs: $4.95 (for stocks/etfs priced over $1)
Options: $4.95 plus $0.65 per contract (for up to 8 contracts) and $8.95 plus $0.15 per contract (for over 8 contracts)
Short options valued at 5 cents or less, can be bought to close these positions for no charge (commission free)
Multiple legs will only be charged one base price of either $4.95 or $8.95
Mutual Funds: $9.95
Bonds: $4.95/bond ($14.95 minimum)
Treasuries: $24.95 per transaction
Certificates of Deposit (CDs): $24.95 per transaction
Investments: stocks, options, mutual funds, bonds, CDs, treasuries, ETFs
Minimum to open account: $0
TradeKing was launched as a discount broker in 2005 and is recognized for their top-rated customer support as well as their polished trading platform. They provide great research tools, mobile trading access, and potentially one of the best options trading tools. TradeKing makes it their mission to stay innovative; they recently introduced the iPhone and BlackBerry trading applications in addition to expanding their free education resources with video tutorials, live webinars, and options playbook for all degrees of traders. Some other notable features of TradeKing include having no minimum requirements or hidden fees and has no IRA setup or annual fees, along with no account inactivity and maintenance charges. It should be mentioned that TradeKing is also known for their excellent "Trader Network"- a community service forum that is helpful for sharing and reading tips and exchanging trading ideas. Beginners could place broker-assisted trades for the low cost $4.95 and could learn to trade and acquire investing ideas among the website's active community users. The education section contains everything for the rookie to know before trading in addition to a section of intelligence reports available for the more advanced traders.
Overall, TradeKing is simply an excellent stock and options broker, and with their full host of videos and resources to help you get started and learn the platform, it is a good choice for beginning investors.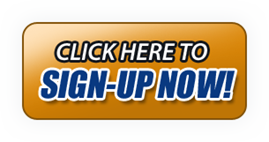 Click here for more stock broker reviews!